Juices and smoothies for skincare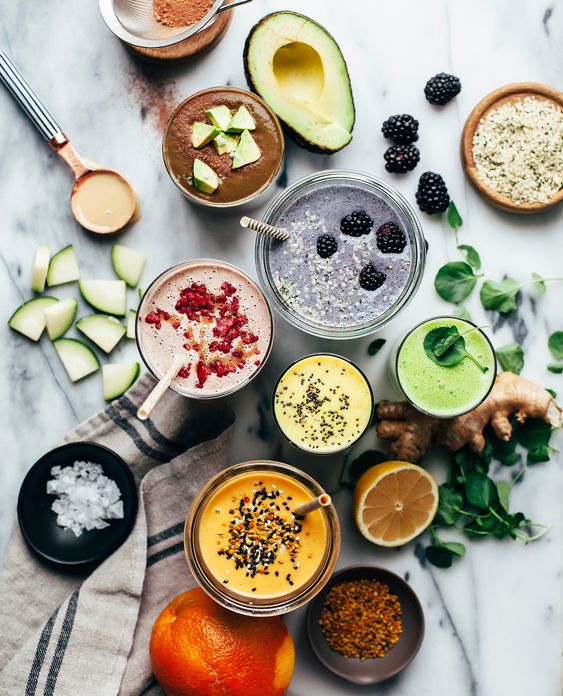 Hi Skinvestors,
we all know the importance of fresh juices and smoothies to achieve a healthy diet and body. Consuming these smoothies and juices also helps in achieving a glowing, healthy and supple skin. Let's get right into it!
Juicing is the easiest method to get the daily dose of pure nutrition that rejuvenates and hydrates the skin from within.
Juicing is better than having the whole fruit or vegetables in certain cases because; through juicing the nutrient directly enter the blood stream.
Healthy skin is closely related to a properly functioning liver. Raw juice extracted from fruits and vegetables helps in removing toxins and chemicals from the system and aid liver regeneration.
It is ideal to have at least once serving of juice daily during mid-morning or evening. A complete juice detox diet can be followed for 3 days every month
Following are some easy to make at-home recipes:
Mango, cucumber and spinach smoothie:
This Vitamin A rich smoothie is the perfect elixir for naturally glowing skin. Home remedies for perfect skin must include mangoes – rich in antioxidants that reduce pigmentation and age spots, the prominent signs of skin aging. In addition, Vitamin A present in mangoes acts as a natural bleaching agent that aids in removing skin tan and helps in providing a bright and glowing complexion. Cucumber helps in reducing freckles and improving complexion and spinach detoxes the system and purifies blood, thus, reducing the breakout of pimples and acne.
Ingredients:
Mango – 1/2 Cup
Cucumber – 1
Spinach – Handful
Directions: Peel and mash the flesh of the ripe mango, peel the cucumber, chop the spinach and add all the fruits and vegeatbles in the food processor. Blend it for a few minutes, pour in a tall glass and enjoy this delicious smoothie.
2.Cantaloupes, Carrots and Celery Smoothie:
This Triple C Smoothie is rich in antioxidants vitamin C and beta carotene that is the comprehensive answer to the question of how to get flawless skin. Cantaloupes must be included in juice diet because of its powerful hydrating power that helps in maintaining the youthful elasticity of skin and keeps it soft and supple. Folic acid present in cantaloupes helps in skin regeneration while vitamin C promotes the production of collagen all of which have amazing anti-aging benefits for skin. The high content vitamin A and C in carrots helps in preventing the formation of wrinkles and fine lines on skin and also aids in correcting uneven skin tone. Celery is especially beneficial for detoxification and flushing out toxins from the body.
Ingredients:
Cantaloupe Slices – 3 to 4
Carrots – 3
Celery Stalk – 2
Directions: Cut the cantaloupes and carrots in to medium sized cubes, chop the celery and put all the ingredients in to the food processor. Pour 1/2 cup of water and mash it for a few minutes to have your rejuvenating skin detox juice.
3.Lettuce, Mint and Cucumber Smoothie:
This green smoothie helps in improving complexion from within and keeps the skin baby-soft and supple. A flawless skin diet must include lettuce because just 6 leaves of this amazing vegetable provides more that 100% of the daily value of vitamin A that is extremely important for skin cell regeneration. In addition, potassium present in lettuce improves oxygen circulation in the skin and supplies the essential nutrients to the cells. Mint acts as an amazing skin cleanser that and reduces the breakout of pimples and acne. And this delicious smoothie is not just great for the skin of works as an amazing summer chiller.
Ingredients:
Cucumbers – 3
Romaine Lettuce – 1 small head
Mint Leaves – A Handful
Lemon Juice – 2 Tablespoons
Direction: Peel and chop the cucumber along with the lettuce and mint leaves, add all the ingredient sin the food processer along with 1/2 cup of water, blend well and add the lemon juice to it, pour in a tall serving glass and enjoy with a few ice cubes.
4.Apple, Strawberry and Kale Smoothie:
We don't need any reason to enjoy the delicious taste of these red berries, but juices for glowing skin must include strawberries. Strawberry juice is a rich source of ellagic acid, folate and vitamin C – each one has amazing anti-inflammatory properties that help in neutralizing the cell damage caused by free radicals – one of the chief causes of skin aging, age spots and wrinkles. It also saves the skin from the damaging UV rays of the skin that causes skin cancer. Apple – one of the most versatile and extremely popular fruit, helps in cleansing and softening the skin and reduces dullness to give it a glowing and flawless appearance. Kale is an amazing vegetable juice for skin that is packed with vitamins A and K that prevents dry and flaky skin – a major reason for premature skin aging.
Ingredients:
Apple – 1
Strawberries – 2 Cups
Kale – 6 Leaves
Directions: Deseed the apple and chop the strawberries and kale. Take all the fruits and vegetables in a food processor along with 1/4th cup water and blend well to form a paste of smooth consistency. Pour it in a tall mug and enjoy.
5.Orange, Broccoli and Water Cress Smoothie:
Vitamin C rich oranges helps in improving skin texture and brightening skin tone. It also helps in restoring collagen in the skin, the support structure of skin cells that helps in keeping it supple and youthful and prevents skin sagging and wrinkles. Cruciferous vegetables such as broccoli are loaded with antioxidants vitamins like vitamin C and E that promotes collagen production and protects the cell membranes of the skin against the damage caused by harsh UV rays. Watercress is the new name for face lift. Rich in beta carotene, it aids the battle against skin aging and shows noticeable positive results within just 7 days.
Ingredients:
Oranges – 3
Broccoli – 1 Cup
Watercress – 1 Handful
Directions: Chop the broccoli in to small pieces and take 1 cup of it, chop the water cress, peel the oranges and put all the ingredients in a food processor. Blend till it forms a smooth paste and enjoy in a tall serving glass.
6.Beets, Cucumber and Red Apple Smoothie:
The juice of beet roots is one of the best natural remedies to treat wrinkles and skin aging. Being rich in folate, carotenoids and vitamin A, it helps to improve overall health of skin and increase blood flow throughout the skin. Lycopene present in beetroot juice maintains skin elasticity and prevents skin sagging. The combination of beets with nutritious apples and hydrating cucumber makes this natural smoothie one of the best elixirs for flawless and perfect skin.
Ingredients:
Beets Roots – 2
Red Apple – 1
Cucumber – 1
Directions: Wash and peel the beet roots and cucumbers, chop all the components and put in the food processor, add ½ cup of water to it and mix well till it forms a smooth paste. Enjoy with a sprinkle of chia seed powder form top.
7.Sweet Potato, Spinach and Ginger Smoothie:
We hardly give any importance to this vegetable, but sweet potatoes are the true fountain of youth that supplies the skin with all the essential nutrients necessary for complete rejuvenation. The yellow or orange flesh of the potatoes is rich in beta-carotene that has antioxidant and anti-inflammatory properties that protect the cells from oxidative stress. In addition, it is also a promising source of vitamin B6, C and D all of which are extremely beneficial for improving overall health of the skin. Ginger juice has the capacity to remove toxins from blood. It promotes blood circulation and reduces the appearance of wrinkles and fine lines. It also helps in improving skin tone and treating hyper-pigmentation and dark spots.
Ingredients:
Sweet Potato – 2
Spinach – A Handful
Ginger – 1-Inch Piece
Directions: Wash and peel the sweet potatoes and cut them in to medium sided cubes. Chop the spinach and add all the constituents in the food processor along with ½ cup of water and blend for a few minutes to form a smooth paste, pour in a serving mug and enjoy.
8.Pineapple, Cucumber and Parsley Smoothie:
The list of healthy fruit juices is practically incomplete without including pineapple juice in it. Vitamin C present in pineapple cleanses the skin and reduces the outbreak of pimples and acne. It is also a great source of antioxidants that neutralizes cell damage caused by free radicals and oxidative stress. Parsley is rich in vitamin C and K that are vital for collagen production and maintenance of skin elasticity. Beta carotene present in parsley heals excessively dry and flaky skin that aggravates the problems of premature skin aging. It also helps in controlling sebum production, thus reducing the problems of acne and pimples.
Ingredients:
Pineapple – 1 Cup
Parsley – A Handful
Cucumber – 1
Directions: Roughly chop the pineapples, cucumber and parsley and put all the ingredients in the food processor. Add 1/2 cup of water to it and blend thoroughly. Pour in a tall serving glass and enjoy the refreshing smoothie.
9.Cabbage, Cucumber and Carrots Smoothie:
This cruciferous vegetable forms an active component of weight loss diets, but cabbage is equally effective for skin care as well. Being rich in vitamin C, beta-carotene and selenium, it helps in preserving the youthful suppleness of skin and acts as a powerful antioxidant and anti-inflammatory agent to neutralize free radical damage and oxidative stress. Cabbage, in combination with cucumbers and carrots forms a power packed anti-aging natural smoothie that is effective enough to steal away years from the skin of your face.
Ingredients:
Cabbage Leaves – 6 Large
Carrots – 2
Cucumber -1
Directions: Wash and chop the cabbage leaves, carrots and cucumber. Put them in the food processor and add ½ cup of water to it. Blend till all the vegetables turn in to a smooth paste. Pour in a tumbler and enjoy with a dash of lemon juice.
10.Pear, Lemon and Cucumber Smoothie:
Fruits such as pears and apples are a rich source of dietary fibers that is an important nutrient for youthful looking skin because it helps in controlling sugar spikes that damages the collagen. It also helps in keeping the skin texture smooth and even and delays the appearance of wrinkles and age spots. Being rich in vitamin C, it also helps in fighting the damage causing free radicals. Lemon juice helps in keeping the skin radiant and glowing by removing toxins, harmful chemicals and impurities from the blood stream.
Ingredients:
Pears – 2 Large
Cucumber – 1
Lemon – 1
Directions: Peel the pears and chop in to medium sized cubes after removing the seeds, chop the cucumber and add both the ingredients in the blender. Squeeze in the juice of 1 lemon and blend well. Pour in a tall serving glass and enjoy with ice.
Choose your favorite natural smoothie from the list provided above and invest in your truly deserving skin!
Written by Divya Malpani
Leave a comment