Top 5 effective ingredients for: thicker brows, longer lashes and fuller beard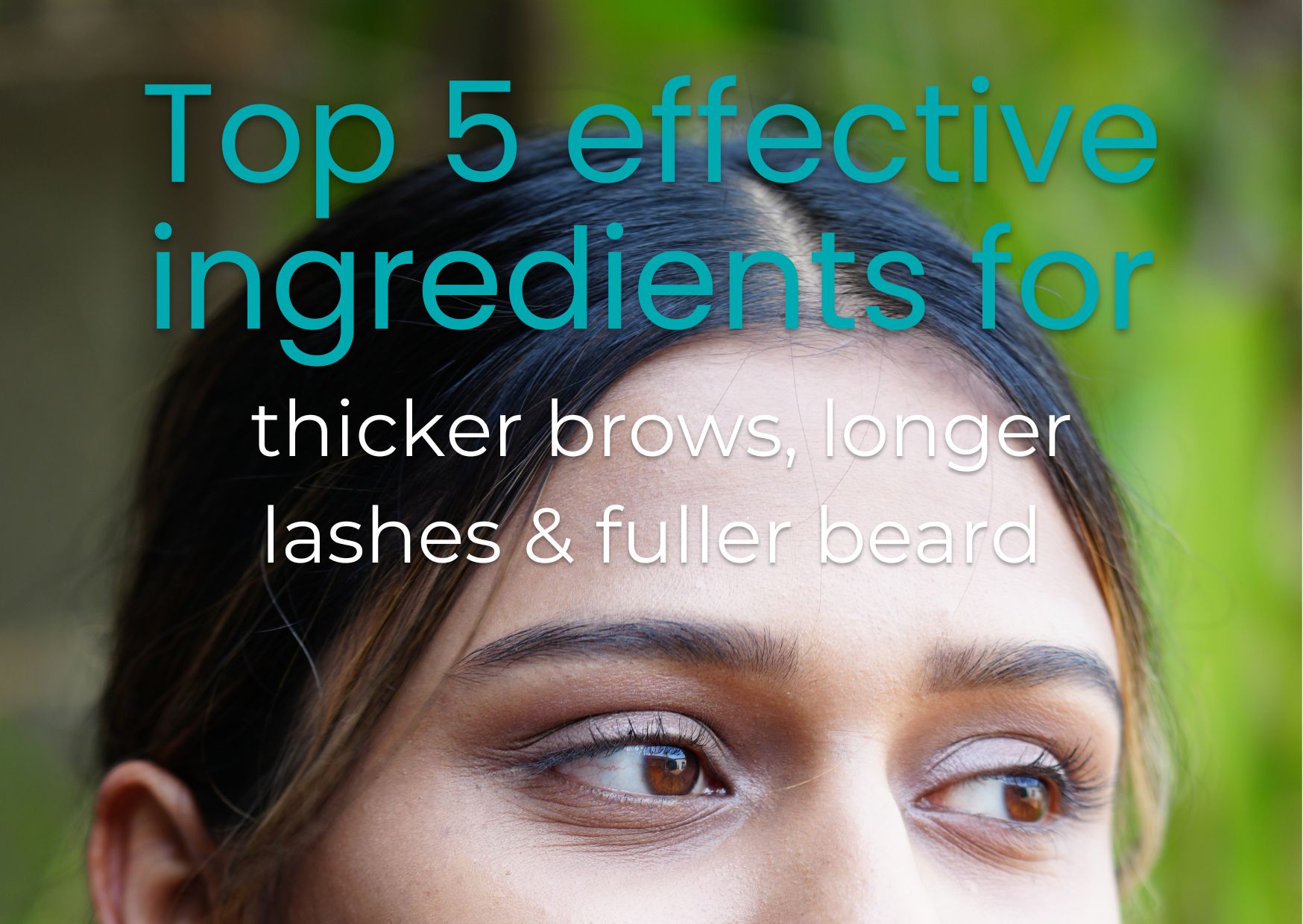 Have you tried multiple sources to grow your lashes and brow? Did it leave you disappointed? You're at the correct place. We dug deep for two years and made the perfect concoction to help you grow your lashes, brows, and beard. With all that research, today we're going to talk about five such powerful ingredients that can surely give you those dense brows, long lashes, and thick beard.
 The ingredients that will help you grow your lashes and brows
We have picked some of the simple ingredients that make for an effective formula to achieve hair growth:
Green tea: Green tea is loaded with plant chemicals which can help with hair regrowth. The way it works is by keeping the hair in its active growth phase. Some of the chemicals present in green tea that help with hair growth are Quercetin, Kaempferol, etc. You can place a bag of green tea over your eyes and brows every day or use our hair growth serum- Lash life; Bro brow which has more than just Green tea in it.
Castor oil: Castor oil has 90% ricinoleic acid. It has been found that ricinoleic acid can help promote hair growth by blocking a certain protein called Prostaglandin D2 (commonly found to be in high quantity in bald men). Castor oil has been popular to grow back hair and promote stronger shinier hair. With that in mind, we too, have added Castor oil in our lash serum- Lash life; Bro brow which can be used effectively on brows and beard too!
Oleanolic acid: It is commonly found in Olive oil, Olives. Oleanolic acid is all that you need to elongate the hair shaft and the active growth phase. Its efficiency gets better when paired with Biotinoyl Tripeptide-1 and Apigenin. What's this concoction, let us talk about these two ingredients.
Apigenin: It's this magic ingredient that can be found in Onions, Parsley, Celery, Grapes, Oranges, Chamomile tea, etc. It is a potent juice of anti-oxidants and successfully inhibits the gene expression that leads to hair loss. It works great with Oleanolic acid and Biotinoyl Tripeptide-1. We have these three ingredients in our lash and brow serum- Lash life; Bro brow. It's a proven concoction so be our guest!
Biotinoyl Tripeptide-1: It's an extracellular matrix peptide that helps in stimulating collagen production and proliferation of hair cells. To break this science, simply means that it helps in growing hair and hair cells. If you're facing an issue of bald patches or receding hairlines then this is you must include this ingredient. We do have Biotinoyl Tripeptide-1 with Biotin in our serum so if you see your lash, brows, and beard losing their volume, you're welcome to try us.
Needless to say that we have all of these five ingredients and much more in our Lash life; Bro brow serum. To make it simpler and easier to use, we have a soft brush applicator. This helps to ensure you're not using an excess amount of serum every night. Also, you do not need to worry about the serum washing down the concerned area because it absorbs pretty quickly. See you on the other side with pretty lashes and brows!
 Written by: Divya Salvi
Leave a comment