10 reasons to invest in a sunscreen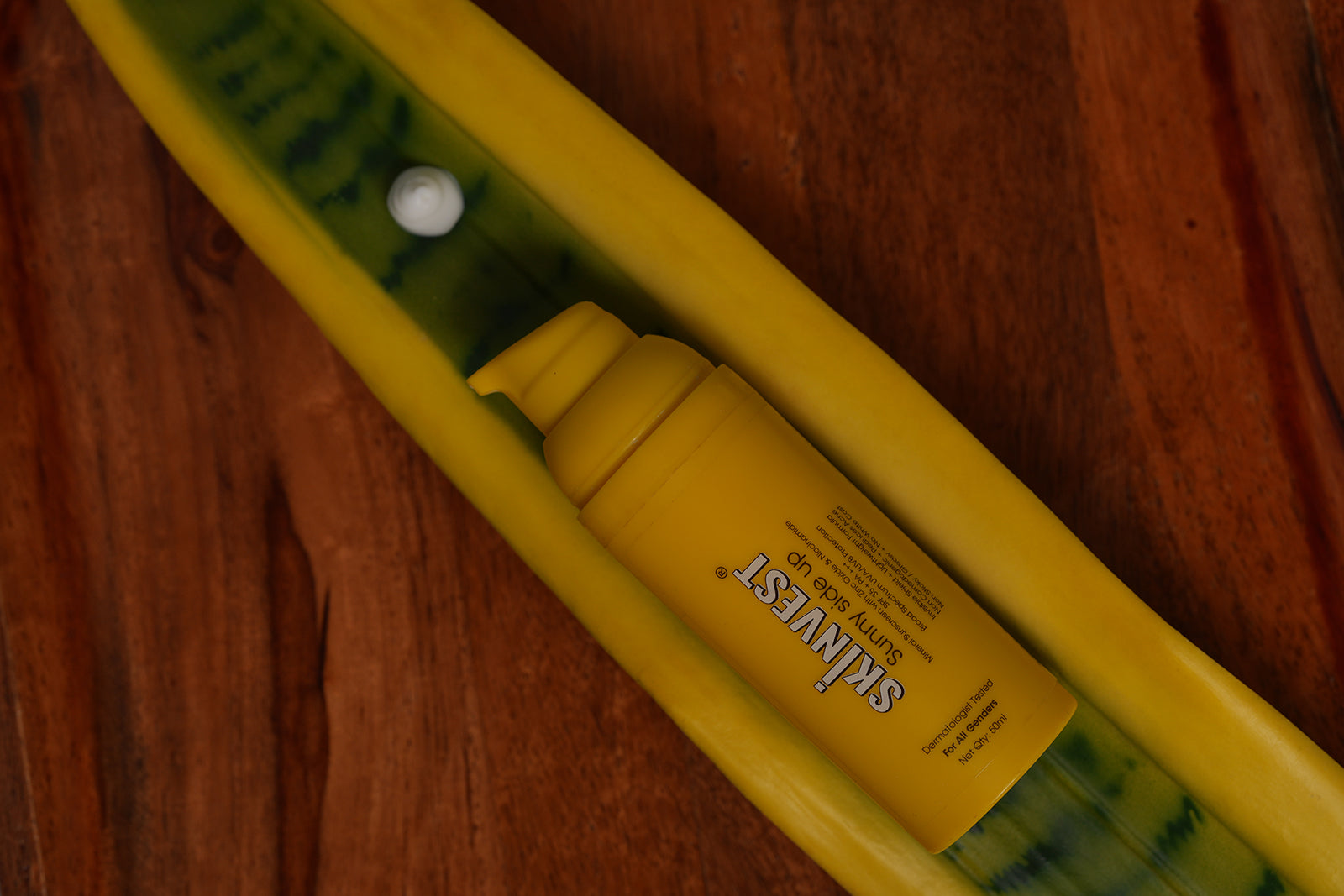 Yes, you've probably heard it a million times now and as you're reading this it's in the back of your head "wear sunscreen everyday". If it's not, then let's learn, and if you know but still don't follow – then we have a crisis 😛

Here are 10 reasons to make you wanna wear SPF everyday!

1. There's a difference between tanning and sunburning. While tanning is cool, sunburning is a hell no and as the name suggests, it literally burns your skin cells and damages them permanently. Wear your SPF everyday, no matter the season.

2. We usually hear people say, "but I don't go out as much, I am indoors all day, I don't wear sunscreen indoors". This is a big red flag!!! Even if you are indoors, the UV light finds its way through the windows to penetrate in your skin to damage it. Even if you are indoors, it is irrefutable that you wear SPF, every single day, even if it is a cloudy day.

3. Unprotected exposure to sun can have long-lasting effects on your skin that are very difficult to fix.
4. No sunscreen = leading cause of skin damage, photoaging, DNA damage, hyperpigmentation, dark spots, risk of cancer, and sunburn.

5. The skincare foundation claims that applying sunscreen everyday reduces your chances of developing the deadliest skin cancer (squamous cell carcinoma) by 50%.

6. SPF also prevents early signs of aging, fine lines and wrinkles so that you have young and healthy skin by the time you're old.

7. It is common for Indian skin to develop pigmentation and hyperpigmentation because of the reactive melanin especially in the India skin. When parts of skin become darker inconsistently and discolors, this means that your skin is affected because of unprotective sun exposure causing hyperpigmentation.

8. SPF = investment for your skin. You will see the ROI, which will be too good for you to discontinue.

9. Sunlight also causes DNA damage ultimately leading to inflammation, accelerated aging, and tumor development.

10. Sunscreen prevents skin discoloration, sun-spots, dark spots, and pigmentation which can stay on your skin permanently.

There's no doubt – sunscreen protects your skin!

But did you know that Skinvest's Sunny side up sunscreen not only protects your skin but also prevents and reduces acne?

A lot of sunscreens clog pores as they are comedogenic, cause breakouts, have cancer causing ingredients, are sticky, have white cast and feel super uneasy. This is the reason why people fail to apply the sunscreen, forget about re-applying it. SPF only works the best and prevents damage on your skin if you keep re-applying it. Sunny side up offers invisible and super lightweight shield that is fast absorbing which makes re-application easy.

Did you know that Skinvest's sunny side up also contains Niacinamide? Niacinamide is a superstar skincare ingredient with the following benefits:

Minimizes redness and inflammation
Minimizes pore appearance
Regulates and stabilizes oil production
Treats hyperpigmentation
Protects against sun damage
Minimizes fine lines and wrinkles
Treats acne
Prevents skin cancers like Melanoma
Promotes production of ceramides and elastin

Skinvest's sunny side up is a mineral sunscreen with Zinc Oxide and has the following properties:

Non-comedogenic
Mineral sunscreen
Non-sticky
No white cast
Fast absorbing
With niacinamide
Prevents and reduces acne
Broad spectrum protection
Both UVA UVB protection
SPF 35+
PA +++
Paraben free
Fragrance free
Vegan
Cruelty free
Irritation free
Works well as a primer under make-up
Phthalate free
For all skin types including sensitive skin
Offers immediate protection by reflecting UV light unlike chemical sunscreens.

Skinvest's Sunny side up is formulated specially for the Indian skin, taking into account all the features that are important for the youth of India. Ideal for daily use to moisturize, prevent and reduce acne, Sunny side up protects the skin from sun damage immediately. Zinc Oxide offers protection against both UVA and UVB rays, hyper-pigmentation and has both an antibacterial action and is used as a building block for skin repair. Tocopheryl acetate enriched with Antioxidants neutralise free radical damage by UV rays. The Botanical extracts of Gotu kola & Lycopersicum defends against photoaging and tanning with their extensive antioxidants content. This is a non-sticky / non-greasy and lightweight mineral sunscreen that leaves no white cast after application and works great under makeup.
If you don't wear SPF everyday, it is about time you started. If you haven't checked out Skinvest's sunny side up – what are you waiting for?
 Written by Divya Malpani
Leave a comment