Skincare actives which all the mom-to-be can use!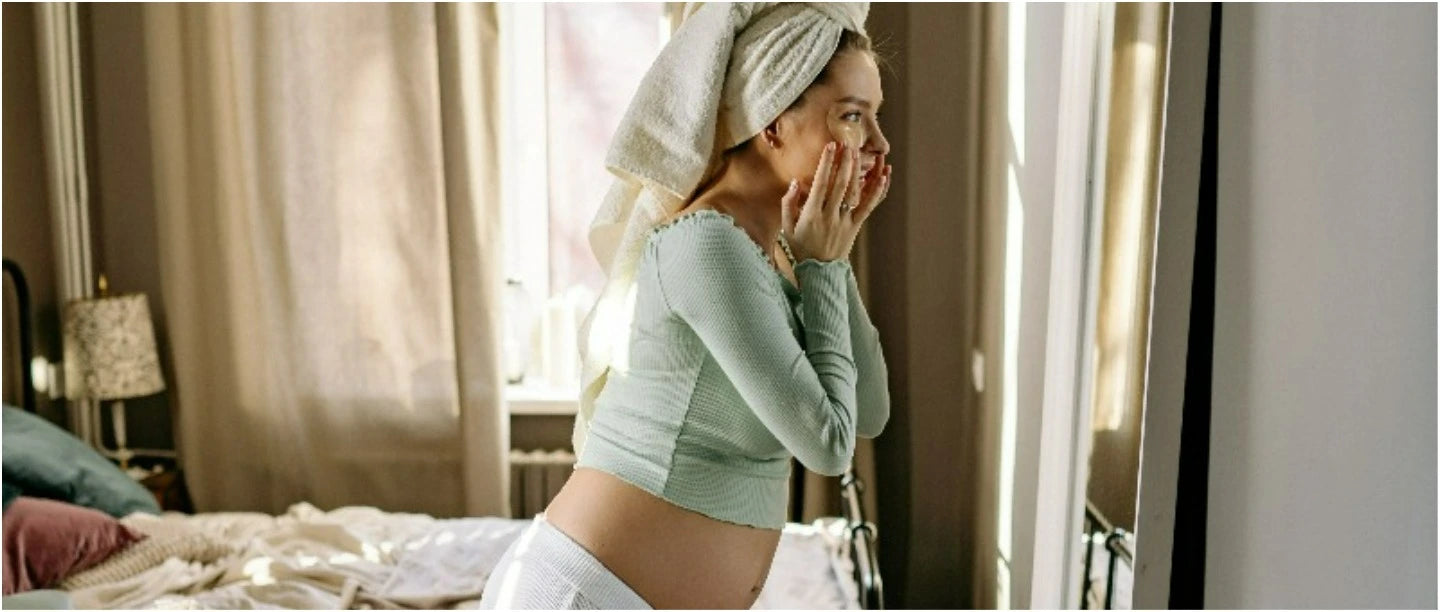 We've all resorted to DIYs and self-treatments on multiple occasions in our life. But it comes a bit tricky when you're pregnant. We formed a guide for all the mommy-to-be to note what can and won't work for your body when it comes to skincare. Let's dive right in!
 1.What are the ingredients to use and those to avoid during pregnancy?
Pregnant women often have to be careful of using or eating items that can affect the fetus. Certain skincare ingredients have higher penetration power which means they can enter your bloodstream and hence can affect your fetus. So we noted down some of the common ingredients that skincare products contain and listed them as safe and unsafe for pregnant women. Here's what you need to know about the ingredients to avoid:
Retinol: Retinol belongs to a group of Vitamin A derivatives called Retinoids. All forms of Retinoid, including Retinol, are considered to be unsafe during your pregnancy. It has the potential to develop congenital irregularity in a child.

Hydroquinone: Hydroquinone is one of the most absorbed ingredients by the skin compared to other ingredients. It has no link to affecting the baby but since it is absorbed in considerable amounts by the skin, it is best to avoid it.

Phthalates: They are commonly found in the beauty industry but they should be avoided by pregnant women since it has been linked with serious reproductive health concerns.

Salicylic acid: Salicylic acid is a smaller concentration and can be safe to use according to American College of Obstetricians and Gynecologists but it is best to avoid it as per a 2013 study. If chemical peeling is what you're looking for then read below for an approved chemical exfoliator.

Chemical UV filters: Chemical filters like oxybenzone, Octinoxate, etc are hormone disruptors and even harm water life. An animal study shows that they have some serious repercussions on the fetus's development and mammary glands too.
Ingredients that pregnant women can use in their skincare routine:
Glycolic acid: During pregnancy, one of the common conditions is melasma or chloasma which is skin darkening. To treat such a skin condition you need chemical exfoliants like Glycolic acid which is considered safe but only in small quantities. It is a powerful Alpha-Hydroxy Acid (AHA) which can exfoliate dead skin and also increase cell turnover.

Azelaic acid: Azelaic acid which is commonly used to treat dark spots and pigments works great for pregnant women as a serum. Azelaic acid can also treat fine lines.

Vitamin C: Vitamin C is a powerhouse of antioxidants and helps brighten the skin. Additionally, it is also very safe for pregnant women. This is an extra reason to love Vitamin C!

Butters: You can and must totally use butter. They are moisturizing and keep your skin protected from free radical damage. Stretch marks, here's us throwing a big fat jar of butter on you!

Green tea: This gentle yet powerful ingredient can sit on every skin type's vanity and also works during pregnancy. The immense mental and physical benefits that this ingredient brings to the table are incredible!

Mineral sunscreens: Since chemical sunscreens are out of the picture and you still, obviously, need sun protection to avoid triggering melasma, mineral sunscreens should be your pick. They are majorly Titanium oxide and Zinc oxide which also have anti-inflammatory properties. Speaking of mineral sunscreen, here's a beautiful non-greasy formulation with no white cast to protect you- Sunny side up. It has SPF 35 and PA ++++ and did we mention how travel-friendly the packaging is?
If you want to know how to read a sunscreen label, follow this link!
 For your child and your safety, you must always consult a dermatologist before experimenting in that phase
Leave a comment