Sunscreen that we approve for babies and kids.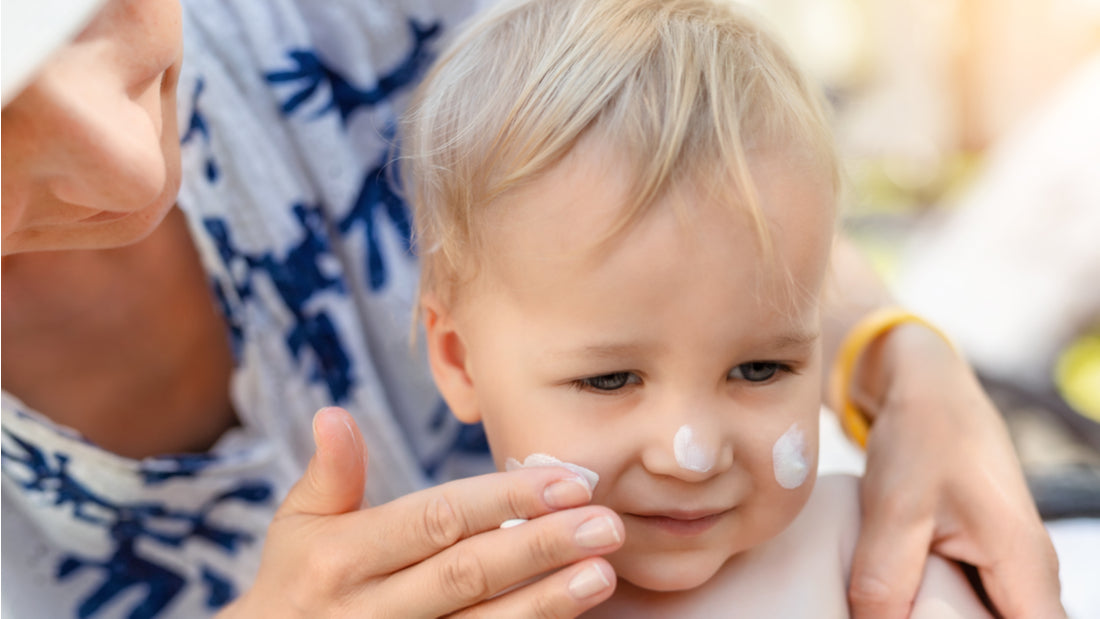 We made some notes on who prioritizes sunscreen and we realized that parents are looking for a sunscreen for their kids but they're most scared of using any product on their kid. But sunscreen is non-negotiable, especially for active kids (which most of them are!). Let's simplify evaluating sunscreen for your kids with simple tips.
 1.Which is the best sunscreen for babies?
If you've been following our 'easy read blogs' then you'd know that there are three types of sunscreen and they have striking differences in terms of the way it protects your skin. Learn about them here. But the question remains- Which one is better for babies? Physical sunscreens. Research says that physical sunscreens are majorly non-irritant and hence the apt choice for children. Physical sunscreen agents are titanium oxide or zinc oxide. Both of them, especially zinc oxide, have anti-inflammatory properties and they stay on the surface of the skin, unlike chemical sunscreen. Moms are constantly looking for just the best for their babies, and should also go a step further to avoid afternoon harsh sun. Even babies need sunscreen daily but what attributes should parents look at apart from picking a physical sunscreen?
 2.What are the attributes that parents should look for in a sunscreen?
Some basic parameters on which you can judge sunscreen for babies are as follows:
Broad-spectrum or PA++++: Kids don't understand the concept of avoiding the sun and the harmful effects of UV rays but you do. So pick a sunscreen that offers not just UVB but also UVA rays. To know if sunscreen protects you from UVA rays, check the label for words like 'broad-spectrum' or 'PA ++++'. Sure, you'd be curious about what exactly they mean! We've broken down the simple language of sunscreen labels here.

Non-greasy: Kids can be messy. One minute they are painting and the next minute they're rolling in the dust. But while playing uninhibited, you'd not want them to come with a greasy face with dirt stuck on it so you need a non-greasy sunscreen that won't attract dirt on their skin. This becomes a vital attribute when



Non-comedogenic: The reason why skincare for babies has not been formulated the same way as adults is due to skin sensitivity. So to ensure that the baby does not end up with irritated and inflamed skin, pick a sunscreen that is deemed non-comedogenic. Such skincare with a dermatologist's recommendation gives you the extra cushion to trust a product for the babies.
 Easy to reapply: Sunscreen bottles that are easy to carry and reapply, work best for active children. Right after swimming classes when you'd want them to bathe and apply sunscreen again. So it should be easy to reapply and small bottles or tubes with a pump works best. Many parents aren't aware of the significance of reapplication but for complete protection round-the-clock, reapplying after every 2-3 hours is the right way to wear sunscreen.
In case, you're wondering where you could find sunscreen with these pointers taken care of then you're at the right place. Sunny side up is just the right sunscreen for pregnant moms, babies and everyone with sensitive skin. It has Niacinamide and physical sunscreen filters which provide SPF 35 and PA ++++. To top it off, it is a non-comedogenic and non-greasy formulation. Genie made your wish come true!
Leave a comment