A simple skincare routine that works as hard as you do!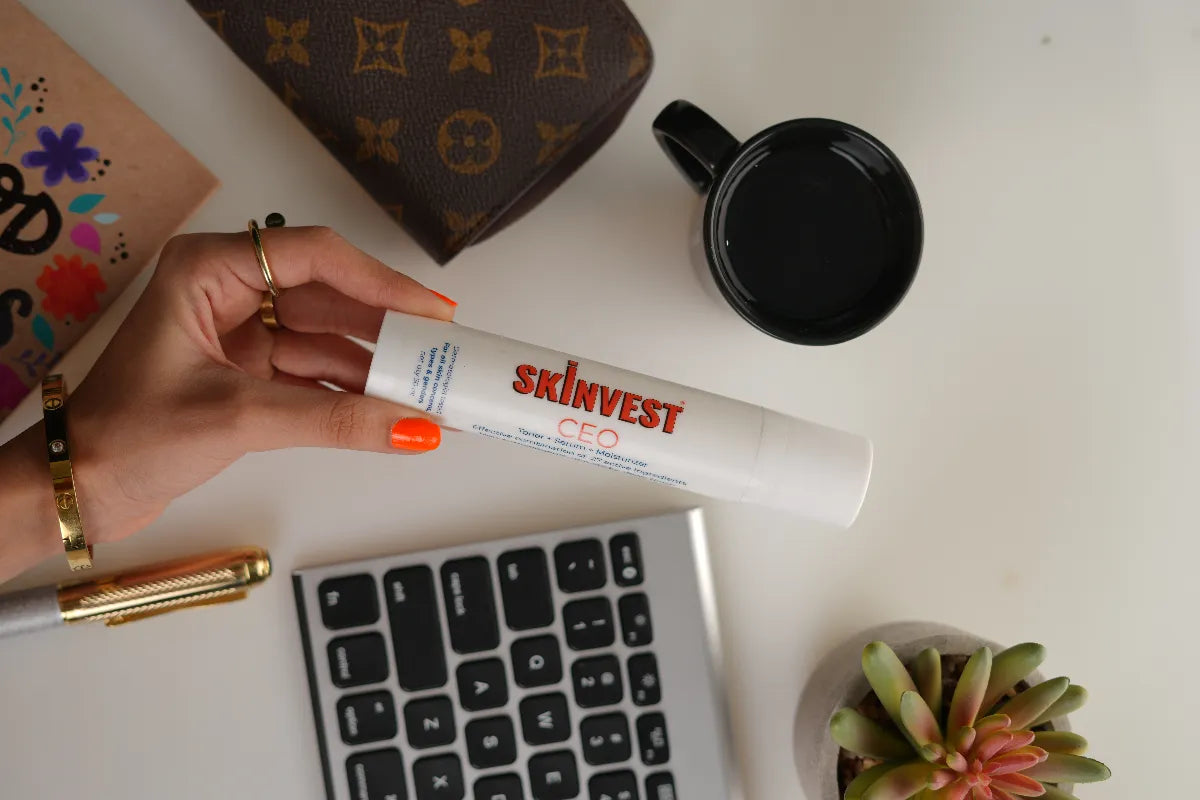 A hustler, a CEO, or a boss at their job definitely gets little to no personal time and they're always looking to maximise the outcome from every single minute of their day. If that sounds like you then you will be very happy to know that we made a skincare routine for you that can suit your skin concerns and schedule both. This routine is proof that you don't need to choose between your skin and your job!
 What can a simple skincare routine look like for a hustler?
A simplified skincare routine needs highly effective and potent products which can suffice the basic needs of the skin on top of addressing the skin concern. We all strive to maintain and achieve glowing, even-toned, bright and plump skin and a simple routine can do it just as much as a 10-step routine would. The only thing that would change is that simplified skincare needs multifunctional products. Let's dive right in to know what a hustler's skincare routine can look like:
Cleanse: A clean canvas is very important before you start your skincare routine. Pick a cleanser that won't strip off your natural moisture but will wash off all the gunk and dead skin matters. In case you're suffering from active acne then you can prefer a cleanser that has Salicylic acid and Green Tea Extract to soothe and exfoliate your skin. Ensure to cleanse for solid 60 seconds before moving to the next step.

Address: ideally after cleansing, you should apply a moisturiser but you don't have time for multiple steps. So the right pick would be our CEO which is a 3-in-1 multifunctional product with a blend of 27 actives that can tone, moisturise, and address your skin concern. Some of the most common skin concerns that the CEO addresses are dark spots, uneven skin tone, dullness, dryness, and inflamed skin. It's a solid one-step for your skin that will leave you with a dew like never before. We've broken down the ingredient list here in case you want to know more. Don't blame us if people walk up to you to know why you've been glowing these days!

Protect: Yes, sunscreen has to be your last, sealing step. In absence of sunscreen, all your previous skincare steps are a waste. Sunrays can easily damage your skin which your skincare products would try to address. We understand that greasy sunscreen that gives a white cast is a big demotivator to applying sunscreen every day and hence we made Sunny side up which has a non-greasy finish and offers SPF 35 with PA++++. Learn about sunscreen terminologies in a simplified manner here.
 Crux is, a simplified skincare routine which can save time and money and can be effective and CEO is the perfect example of it!
 Please add the link of 'What can a serum of 27 actives do?' here once that blog is finalised and published
Leave a comment