New to skincare? Here are the top ingredients you need to look for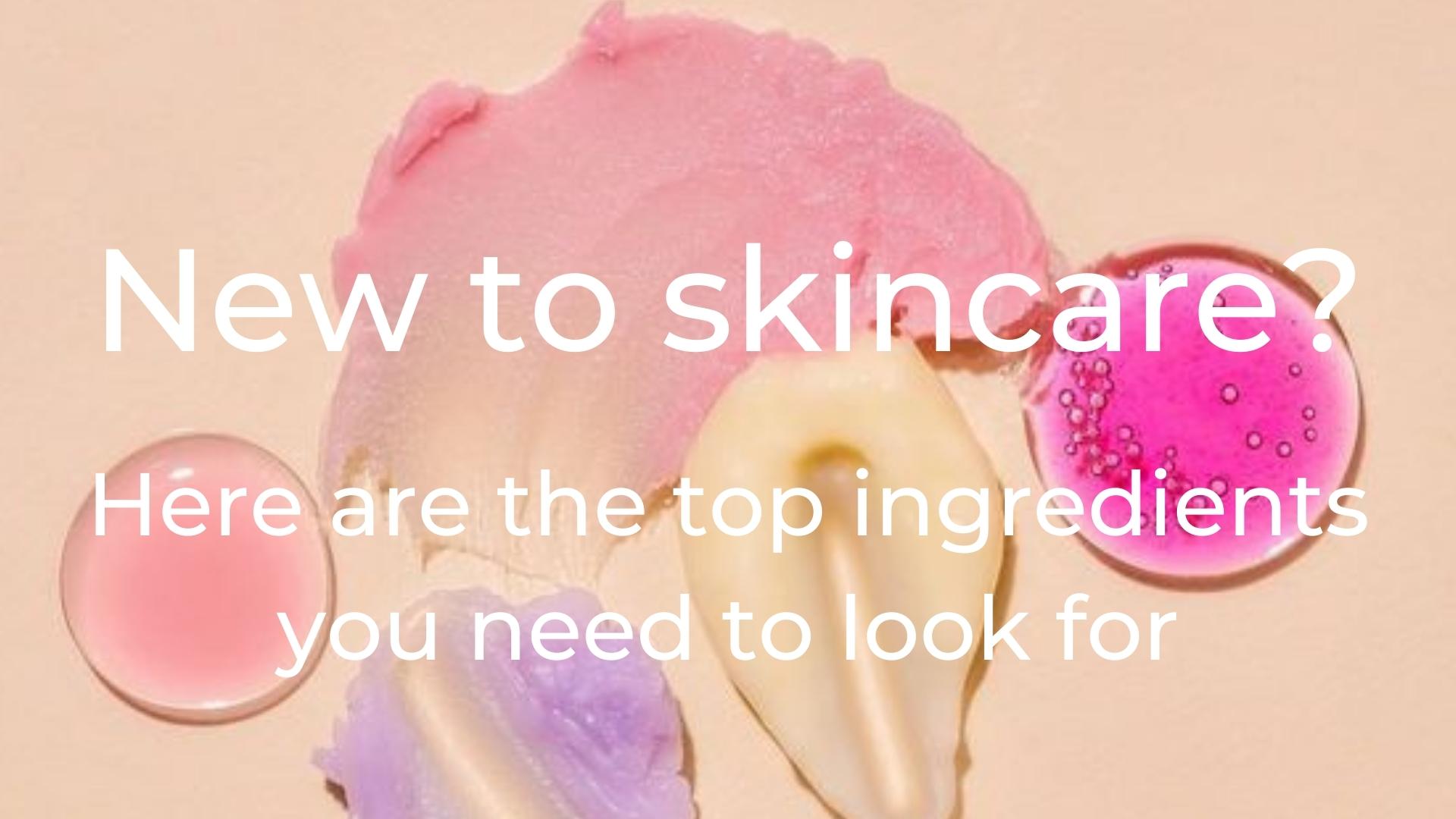 For all those who are just starting with skincare, it could be pretty overwhelming to pick out the right ingredient for your skin concern. As a beginner, you also need to pick the right formulation with the right concentration. Starting with a new ingredient can be scary especially when you already have an existing skin concern to address. Here's how you can make your skincare journey smooth with these ingredients that can pretty much tackle the common skin concerns like acne, acne marks, dryness, dullness, tanning, ageing, pore size, etc.
 1.What are the ingredients that everyone can and must use?
These are some star ingredients that can be included in every skincare beginner's pack.
Vitamin C: It is one of the most studied active ingredients and offers many benefits. It is used to treat photoaging, hyperpigmentation, tissue inflammation, and to promote healing. If you have ended up with a tan or you have dull skin, then Vitamin C can rejuvenate your skin. It is available in many derivative forms which release Vitamin C once they come in contact with your skin. It is best to start with the lowest concentration of around 5%. Patch test it before including it in your routine. Start with using it on alternate days and then include it in your routine once your skin has adjusted to Vitamin C.
Niacinamide: Niacinamide is a form of Vitamin B3 and is commonly found in green vegetables and cereals. Just like Vitamin C, it is rich in antioxidants, it can help you fight oxidative stress that contributes to ageing signs. Niacinamide can help you strengthen your skin barrier, moisturise, brighten, reduce inflammation, and regulate the oil production. We'd say that beginners can start with 5% of Niacinamide. Pair it with Vitamin C to see greater results!
Centella Asiatica: Centella Asiatica is also known as 'tiger grass'. There's a story for this. Wounded tigers used to rub their back on this specific grass to heal and that is how we learnt from tigers that this is a very potent grass when it comes to healing. Centella Asiatica is widely used in Korean skincare and also in Ayurveda. It can help you achieve an even-toned glow by reducing inflammation, promoting healing which leads to healthy skin.
Retinol: Retinol belongs to a group called Retinoid which is a derivative of Vitamin A. Retinol is the mildest of all and yet so potent. It's a standard first-line treatment to prevent early ageing by increasing the cell turnover. Retinol is also used to treat stubborn marks, hyperpigmentation patches, etc. However, it should be used carefully and in the lowest concentration in the beginning. We'd say start with 0.2- 0.5% of Retinol. Any Retinol-based products cannot be used on damp skin. Also it needs to follows with a good layer of moisturiser to avoid drying and flaking of the skin later. It is known that Retinol is more effective when paired with its plant derivative called Bakuchiol oil. This helps to stabilise Retinol and deliver better results. Want to try such a combination? Look up for our mist- Light it up that is gentle and easy to use. Also it has Retinol Liposomes and Bakuchiol together. Double power but lesser drying!
Now you may wonder what is Retinol Liposomes and how does it differ from the regular Retinol. It's basically Retinol which is trapped in small spherical vesicles and these vesicles then releases Retinol slowly. This moisturises the skin and increases the availability of the active ingredient to the skin. We use Retinol Liposomes instead of Retinol in all formulations where Retinol comes in.
Tocopheryl Acetate: This is a form of Vitamin E which is often found in green vegetables, oils, nuts, seeds, grains, etc. It is known for its moisturising properties and its ability to strengthen the skin barrier by preventing transepidermal water (TEWL). Being rich in Antioxidants, it can fight the external stressors that can cause fine lines and wrinkles. If you pair it with Vitamin C, it can give you bright and glowing skin!
With every skincare ingredient, you need have a strong post-skincare game in the morning. And that is using a sunscreen to ensure that all the goodness of skincare is not undone with the harmful UV rays.
Written by: Divya Salvi
Leave a comment