Say Bye-Bye to Pigmentation with these actives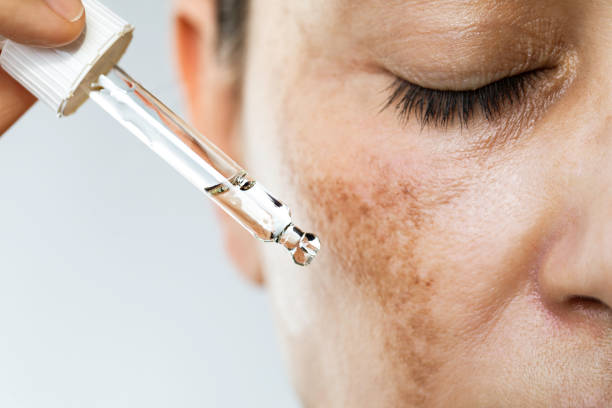 Pigmentation is such a bummer while dressing up. It is common too. We often end up focusing on our flaws more than our beauty and hence, pigments bother most of us. Make a note for a subtle reminder from time to time for yourself that pigmentation is normal and natural. Sometimes it may even enhance your smile and curves around nose, making you unique and beautiful in your ways. At the same time, if you want to work on them then there is no harm as long as you don't end up experimenting with your skin. We know just the right serum for you to pick every day and night to see an ethereal glow and even-toned skin eventually. Just keep up with this blog!
 1.What leads to pigmentation?
Pigmentation takes nothing more than the disruption of internal and external factors. It is the body's way to protect your skin from further damage since that region of the skin is vulnerable right now. The brown pigment which is called melanin is also known as natural SPF that your body produces when your skin experience-
Harsh weather
Inflammation
Imbalance in hormones
Sudden changes in the body like sudden weight loss or gain
 2.What must your dream serum contain to treat pigmentation?
A serum that fits best for pigmented skin is usually a mix of brighteners, gentle exfoliators and moisturisers- all in one. While cooking up our first serum, we understood that for the treatment of pigmented skin, making layers is scary at times (since we're all not wearing skincare science cape!) and also such an inconvenience. In comes our first serum- CEO. It's a mix of 27 actives which can easily tackle pigmentation over time. Why do we say so? Well, it's because it has everything you need to treat pigmentation-
Brightening: CEO contains Ethyl Ascorbic acid (the most stable form of Vitamin C), Azelaic acid, Tranexamic acid, Alpha Arbutin, and Niacinamide to brighten and target pigmentation producing cells (melanocytes).
Exfoliating: Ingredients like Glycolic acid, Citric acid provide gentle exfoliation without the fear of tingling sensation. Not just this, we have also included Pineapple extract which contains bromelain- a gentle enzyme to brighten and exfoliate your skin.
Healing: Ashwagandha, Turmeric, Allantoin, Centella Asiatica, Watermelon and Chamomile extract- of this list, some are the ancient herbs used in Ayurveda and Chinese medicine since ages to heal the skin. It's exactly what your skin needs to send your body an anti-inflammation message.
Skin health improving: Collagen, a mix of Ceramides, Peptides, Probiotics, and Grape extract helps you improve skin health and elasticity by improving cell turnover and maintaining the skin barrier.
Moisturising: Ingredients like Panthenol, Hyaluronic acid, Squalane, Hemp seed oil, and Cholesterol are highly rich for your skin when combined to give you a hydration and moisturising effect. Learn more about the difference between moisturisation and hydration here. FYI, your skin needs both!
 These five properties of the CEO make it such a good match to treat pigmented skin. The best part of it is that despite a mix of 27 actives, it is absolutely gentle on the skin. The secret lies in our R&D which makes us worth the investment for your skin. Pair this with sunscreen during the daytime while you're hustling!
FAQs
1. What are the causes of pigmentation?
Pigmentation can be caused by hormonal imbalance, post or during pregnancy, harsh sun exposure, or lack of moisturiser. These are some common reasons, but it depends on your lifestyle too. Example: Smoking also causes pigmentation.
2. How to treat pigmentation?
The rule is simple. Moisturise every day, use an anti-oxidant rich serum to treat, sub protection is non-negotiable and exfoliate alternate days or twice a week depending on your lifestyle.
3. Is a high concentration of chemical exfoliators good to treat pigmentation?
Nope. That's a bad recipe. High concentrations of chemical exfoliators can disrupt your skin barrier or even burn you if your skin is sensitive. This leads to even more pigmentation. If you have pigmentation, please throw out your hydroquinone-rich dark spot remover cream and high-strength chemical peels.
4. How to avoid pigmentation?
Pigmentation can be avoided if you simply follow the rule of CTMP (Cleanse-Treat-Moisturise-Protect) every single day. For everyday treatment, you can use Niacinamide or a low concentration of Vitamin C to maintain skin health.
Leave a comment